Rehabilitation Counseling
First and foremost is the Rehabilitation Counselor. Rehabilitation Counselors work one-on-one to help people of all ages with physical, emotional or learning disabilities discover their potential as independent, self-sufficient citizens. It is a challenging job that often requires creativity and vision to see possibilities where others see only problems. It's a good choice for someone with high energy who wants to make a very real and measurable difference in the lives of others.

The foundation of rehabilitation counseling is one of empowerment in which individuals exercise control over their own lives. The goal of the Rehabilitation Counselor is to assist people with disabilities in achieving maximum psychological, social, vocational and economic independence, which empowers them to enhance the quality of their lives to their fullest capacity. Rehabilitation counseling focuses on the whole person, including family, work and social relationships as well as physical and psychological aspects.

It is the Rehabilitation Counselor who pulls all of the other available services and resources together. The Rehabilitation Counselor's role includes personal counseling and guidance, individual assessment, evaluation of medical and psychological reports, vocational guidance, job placement, and working with individuals and organizations to eliminate environmental and social barriers for people with disabilities.

Rehabilitation Counselors may work for state vocational rehabilitation agencies, social service organizations, independent living centers, alcohol and drug programs, mental health centers, or community or private non-profit rehabilitation programs. Many go on to teach in universities, preparing undergraduate and graduate students for successful careers in vocational rehabilitation.

Preparation

Rehabilitation Counselors are required to hold a master's degree in rehabilitation counseling. Most educational programs require 18 months to two years of academic course work and 600 hours of supervised clinical experience. Many master's programs offer a student stipend plus support for payment of student fees and tuition.

Many doctoral programs offer student stipend support as well. A doctorate in rehabilitation counseling is a necessary qualification for those who intend to remain in teaching or administration of rehabilitation training programs in higher education.

Certification

Upon completion of an approved internship and satisfactory performance on the certification exam, graduates of accredited master's degree programs in rehabilitation counseling are eligible for certification by the Commission on Rehabilitation Counselor Certification (CRCC), obtaining the credential of Certified Rehabilitation Counselor (CRC). This certification is standard for employment in the rehabilitation field. Many states also offer certification as a Licensed Professional Counselor (LPC).

Opportunities

Rehabilitation Counselors are in high demand nationwide. Many recognized experts in the field predict that this demand will increase during the next several years. In addition to positions that are available in the federal, state and local government programs, a growing number of rehabilitation programs in the private sector hire Rehabilitation Counselors.
Find out more about Vocational Rehabilitation
(Excerpts from the Careers in Vocational Rehabilitation Booklet)
Who makes a good rehabilitation professional?
Preparing for a Career in Vocational Rehabilitation
Questions about a Career in Vocational Rehabilitation
Vocational Rehabilitation Professions:
Rehabilitation Counseling
Rehabilitation Counselors
Rehabilitation of Individuals Who Are Blind or Have Vision Impairments
Orientation and Mobility Specialists
Rehabilitation Teachers
Vocational Evaluation and Work Adjustment
Vocational Evaluators
Work Adjustment Specialists
Job Development and Placement Specialists
Rehabilitation of Individuals who are Deaf or Hard of Hearing
Deafness Rehabilitation Professionals
Interpreters for Deaf Individuals
Undergraduate Education in the Rehabilitation Services
Rehabilitation Practitioners
Rehabilitation Administration
Other Vocational Rehabilitation Professions
Rehabilitation Medicine, Physiatrists, Rehabilitation Nurses
Prosthetics & Orthotics
Rehabilitation Technologists
Rehabilitation Psychologist
Speech-Language Pathologists and Audiologists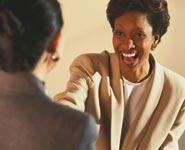 Interview with
Randy Anderson
Vocational Rehabilitation Counselor
"In their first job experiences, I want to keep them on the job and help them be successful there. In the long run, I want to see them in an occupation that they really enjoy and that meets their future financial needs and goals," Randy said..