Rehabilitation Administration
The demand for professional administrators in the Vocational Rehabilitation field is rising quickly and will continue to increase during the first decades of the twenty-first century. Rehabilitation Administrators manage and direct a wide variety of rehabilitation service programs in the public and private sectors. They often come from the ranks of experienced business administrators and rehabilitation professionals who have leadership qualities, can build cooperative relationships, and can marshal the resources necessary to lead and manage growing agencies.

The mission of Rehabilitation Administrators is to ensure that rehabilitation programs serve people with disabilities in the most efficient and effective ways possible. They apply the principles of business and public administration along with program-specific knowledge on the practical and societal implications of disability. Their responsibilities typically involve planning, programming, budgeting, operations and management, supervision and human resource development, information management, reporting, program evaluation, research, and public relations.

Rehabilitation Administrators must be sensitive to the needs of people with disabilities and have knowledge of rehabilitation and labor law. Successful administrators understand government and how it works, make effective use of public and private financial resources, and have the knowledge and commitment necessary to provide quality clinical counseling services and supervision.

Preparation

Rehabilitation Administrators are hired from many kinds of private businesses and nonprofit organizations as well as from professional staff in such disciplines as rehabilitation counseling, psychology and education. Most obtain a bachelor's degree, and often a master's degree, in a rehabilitation-related field before entering management. To qualify for first-level, middle, and top management positions, individuals are advised to obtain additional education such as a master's degree in rehabilitation, business, or public administration. Individuals interested in pursuing Rehabilitation Administration may increase their knowledge and skills through in-service and continuing education venues.

Certification

There are no mandatory certification requirements for Rehabilitation Administrators, but they are generally expected to have met the certification requirements that are mandatory for the professionals they supervise. The Commission on Rehabilitation Counselor Certification (CRCC) offers an adjunct designation for specialized practice within rehabilitation counseling, the CRC-Clinical Supervisor (CRC-CS) for first-level supervisors of vocational rehabilitation counselors.

Opportunities

Rehabilitation Administrators work in state and federal agencies, nonprofit organizations, educational institutions, medical rehabilitation facilities, and private rehabilitation businesses. Many serve in managerial positions such as supervisor, unit director, planner, human resource development director, district administrator, or grants manager.
Find out more about Vocational Rehabilitation
(Excerpts from the Careers in Vocational Rehabilitation Booklet)
Who makes a good rehabilitation professional?
Preparing for a Career in Vocational Rehabilitation
Questions about a Career in Vocational Rehabilitation
Vocational Rehabilitation Professions:
Rehabilitation Counseling
Rehabilitation Counselors
Rehabilitation of Individuals Who Are Blind or Have Vision Impairments
Orientation and Mobility Specialists
Rehabilitation Teachers
Vocational Evaluation and Work Adjustment
Vocational Evaluators
Work Adjustment Specialists
Job Development and Placement Specialists
Rehabilitation of Individuals who are Deaf or Hard of Hearing
Deafness Rehabilitation Professionals
Interpreters for Deaf Individuals
Undergraduate Education in the Rehabilitation Services
Rehabilitation Practitioners
Rehabilitation Administration
Other Vocational Rehabilitation Professions
Rehabilitation Medicine, Physiatrists, Rehabilitation Nurses
Prosthetics & Orthotics
Rehabilitation Technologists
Rehabilitation Psychologist
Speech-Language Pathologists and Audiologists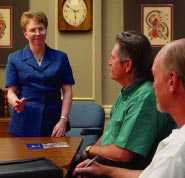 Interview with
Ray Hopkins
Vocational Rehabilitation Administrator
"Now as an administrator, I focus on affecting policies and practices that will have a positive effect on many people. My greatest satisfaction is in helping others in the profession, especially those new to the field.".