Vocational Rehabilitation is emerging as the hot career choice for high-energy people who want to be creative and independent while they make a very real difference in the lives of others. Newcomers can expect to find a diverse range of opportunities offering competitive salaries and benefits.
The RehabJobs.org web site is your "online gateway resource and career exploration" site for obtaining current information related to the many exciting careers and opportunities in the field of Vocational Rehabilitation.
Looking for an exciting job with a Vocational Rehabilitation agency or a rehabilitation educational program? The RehabJobs.org web site can assist you in exploring current job openings, rehabilitation education programs, and scholarship information from the Rehabilitation Services Administration.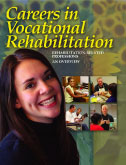 Find out about Careers in Vocational Rehabilitation by exploring our comprehensive web site
including information on more than 17 careers in Vocational Rehabilitation
Rehabilitation Counselor • Rehabilitation Teacher for Blind Individuals • Orientation and Mobility Specialist • Vocational Evaluator • Work Adjustment Specialist • Job Development and Placement Specialist • Deafness Rehabilitation Professional • Interpreter for Deaf Individuals • Administrator • Undergraduate Rehabilitation Practitioner • Rehabilitation Psychologist • Physiatrist
Find out about more than 17 careers in Vocational Rehabilitation by exploring our comprehensive 28 page booklet